Inspiring Change: Leadership Strategies for Creating a Culture of Innovation
July 12, 2023

Posted by:

Sitanshu

Category:

Applied NLP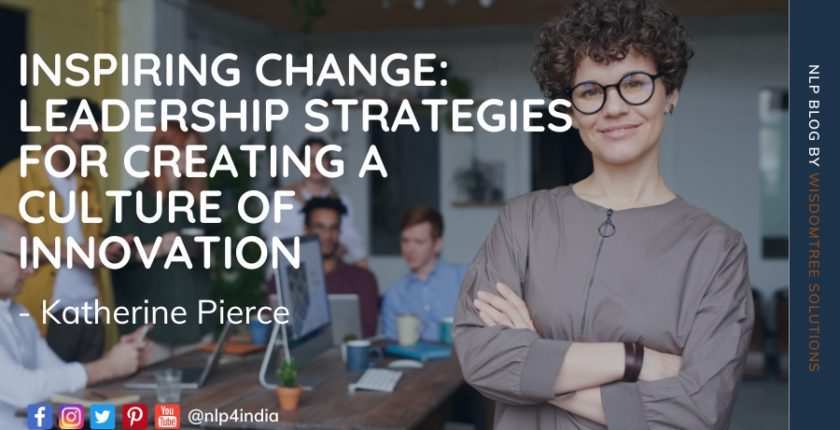 In the past, innovation was merely a trend that businesses would dabble in only if they had the luxury of time. But in today's ever-evolving business environment, it is no longer something companies can opt out of—it's crucial to their survival. Companies that fail to create a culture of innovation are at great risk of being overtaken by their competitors and slowing their organization's growth. Without a commitment to innovation, even the best businesses may face dire consequences, such as being ill-equipped to deal with new challenges and changes in the market.
To thrive in the long run, businesses—particularly the men and women at the forefront—must put innovation on priority and create a culture that challenges the status quo, encourages risk-taking, and calls on everyone to be creative thinkers.
In this post, we'll explore the importance of creating a culture of innovation, as well as provide actionable tips that you can use to cultivate such a culture within your business.
Why innovate, anyway?
To answer this, let's take a look at a prime example of a company that failed to innovate, leading to its downfall: Kodak. It was once at the top of its game, being one of the most well-known manufacturers of photographic film. Its mistake? It was too focused on film that it failed to adapt to the digital revolution. As film photography became more and more obsolete, Kodak was overtaken by its competitors and was eventually forced to file for bankruptcy. 
As you can see, innovation is crucial if you want to stay relevant and, as a result, continue to be in business. Here are the three main reasons why it's crucial to create a culture of innovation:
It paves the way for greater productivity gains 
Businesses that come up with new ways to improve their practices will be able to see an increase in productivity. A culture of innovation also empowers employees to get through challenges in a more creative, time-efficient way. This will allow you to reduce your operating costs and secure your company's long-term success. 
It sets you apart from the competition.
When you do things differently, you'll be able to set yourself apart and come up with new products that stand out in the competitive marketplace. Through innovation, you can give your products a unique selling point, particularly towards customers who care about innovation. It's important to note that most customers are willing to pay a premium for innovative products, as this survey shows. 
It builds your business's reputation. 
In addition, a culture of innovation can help you build your business's reputation as a forward-thinker in your industry. As an authority in your field, you'll be able to gain the trust of your customers, clients, and investors. This can lead to increased sales and open more doors for potential partnerships.
How leaders can inspire a Culture of Innovation
As a leader in your organization, you have to set an example and embolden your team to embrace a culture of experimentation. To do this, we've put together a few tips and strategies that you can use to inspire a culture of ideation and stay ahead of the curve. 
Learn from the experts
Experts who've gained a wealth of knowledge from their wins and losses can provide you with priceless insights, tips, etc., on fostering a culture of innovation. Participating in a leadership summit, seminar, or conference can provide you with the tools and inspiration you need to drive change within your organization and give you the confidence boost you need to implement the best practices.
Create an inclusive environment
You can't create a culture of innovation if your employees don't feel comfortable voicing out their ideas and opinions in front of you or their peers. As the leader, it's your responsibility to set the tone and let everyone know that you welcome all kinds of ideas, even the ones they think aren't worth "good enough". When someone presents you with a promising idea, implement it ASAP—this will show your team that you value their contributions. 
Provide resources
Innovation may not be in your employees' vocabulary. While some of them might possess the ability to think out of the box, others might need a gentle push in the right direction. To support your employees, why not set up a mentorship program? Through a mentor's experiences, your employee will have the guidance they need to explore new perspectives and generate ideas of their own. You could also pay for corporate training programs, allowing them to gain insights from other industry professionals. 
Lead by example
Practice what you preach! If you want your employees to be innovative thinkers, you must model the behaviour you expect of them. When you take risks, try out new ideas, strive for improvement, and show your team that you value innovation, your team will be inspired to do the same. 
Offer constructive feedback
A culture of innovation means taking risks—this means that some ideas will work out while others won't. A good leader understands that "bad" ideas need not be punished, as punishment can discourage employees from taking risks in the future. 
When an employee makes mistakes, you must offer feedback that will allow them to do better next time. By constructively offering feedback, you can show your employees that they can pursue their ideas without fear. 
Be the leader your business needs
As a leader, you play a vital role in creating a culture of innovation in your organization. By following the tips we've outlined above, you can motivate your team to be more creative, think out of the box, take risks, and experiment with new practices and processes. This will allow your business to thrive as it will inevitably face new challenges in its ever-changing industry.  
To learn more about how to be a better leader, we invite you to attend our training programs at WisdomTree Solutions. Our workshops are designed to give you the knowledge and skills you need to build a culture of innovation, allowing you to achieve your organization's goals.