Emotional Empowerment with NLP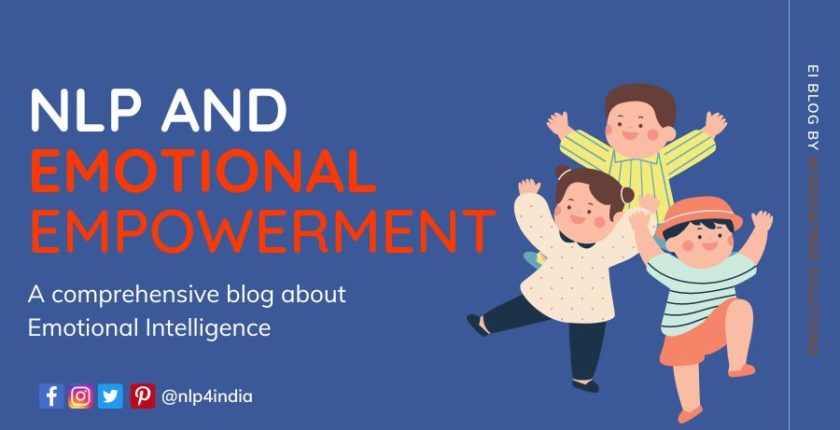 In the past several years… 37 to be precise, 17 as Consultant, Trainer, and Coach, and 20 before that as senior manager heading various divisions in several organizations.
One statement has presented itself through various people in different situations, "I don't know why I got angry"; "I am sad, and I don't know why?"; "why I don't feel happy despite getting what I want" and many more like these.
The answer to these questions is short and simple, we are emotional beings. So many times, people come to me and say, "Can you help me, I am very emotional?".
To which I mostly respond by saying "Congratulations! You are a human being."
I am sure you must have met or known people who openly express their inability to be in control of their emotions (reflective statements like "I shouldn't have shouted" etc. are the signs of it), or worse, people being completely unaware of their emotional state or that of others. They often have poor relationships, find it difficult to manage work or business and even if they succeed in their professional goals, could carry stress due to their inability to emotionally fulfill themselves. Not many realize that inability to deal with emotions often leads to physiological issues or emotional disorders, no wonder almost one-fifth of the population is estimated to be affected by some form of depression.
Managing or being in somewhat control of emotions has been on the radar of psychologists for decades, they all identified if they could tame this devil, many problems would be resolved. Neurologists have been researching how emotions are triggered and in the 90s when Daniel Goleman in his book "Emotional Intelligence" claimed that EI is more important than IQ to succeed in life, all attention was focused on Emotions again.
In the past few years, Neuroscience has progressed immensely and our understanding of how emotions are triggered is much better than what it was in the early 90s. Unfortunately, we continue to struggle with archaic solutions and advice and continue to face the challenge. At this point, NLP, which is relatively a newer form of intervention and a progressive one at that, has come to the rescue.
What is NLP (Neuro-Linguistic Programming)?
There are several definitions of NLP, primarily because it is a basic concept with a profound impact.
In simple words, it means to understand our behavior (that includes emotions) as a function of our comprehension of various situations. It is focused on defining "how to achieve" the desired state rather than spending energy on dissecting the problem. Richard Bandler, the co-creator of NLP once called NLP, an attitude and methodology that leaves behind a trail of techniques".  
By combining NLP with concepts of Emotional Intelligence, practitioners can overcome the problem of being the slave of emotional outbursts. It could empower the person by effectively using emotions to get desired results. There are techniques of NLP that I call Emotional ATM that is, they can enable a person to choose and be in the emotional state he or she desires. So, we effectively move a step further from being Emotional Intelligent to being "Emotionally Empowered".
Major benefits of Emotional Empowerment are physical and emotional health, professional success, and rewarding relationships. One could argue that Emotional Empowerment is not the only factor to influence the three, but it surely is the most important ingredient. In his 1996 book, Daniel Goleman provided several case studies to prove the point. He demonstrated that leaders with high EQ were better influencers, they could take better decisions, could respond to emergencies more effectively and overall were better trusted by people around them.