Why Become a certified NLP Master Practitioner?
November 29, 2022

Posted by:

Sitanshu

Category:

NLP Articles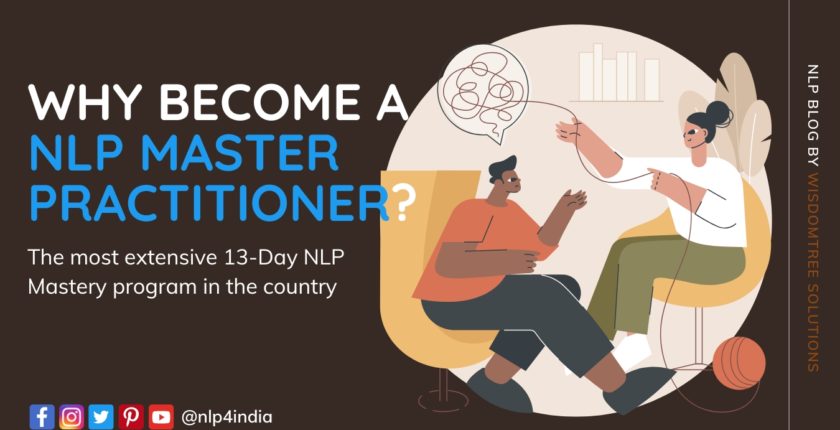 WisdomTree Solutions under the mentorship of Mr Sushil Mehrotra offers the most elaborate and well-structured NLP Master Practitioner Certification in India.
When you complete the NLP Master Practitioner course, you will have undergone over 100 hours of training in advanced concepts of NLP. This NLP Master Practitioner Certification with WisdomTree Solutions is longer than the majority of other Master Practitioner programs.
The techniques that you will learn will help you to advance your abilities and your understanding of NLP to a very proficient level, which can be further solidified by practice between modules and after the program.
Over 100 hours of training in advance linguistic concepts, values, meta-programs, psychometric assessments, spiral dynamics, hypnosis, time-based techniques, and much more.
Learn Advance Concepts of NLP: Refine your NLP Practitioner Certification Program skills of the Milton and Meta Model Language Model, and gain further patterns, to develop a natural and conversational style of NLP.
Meta Programs to understand people: Gaining insight into why people act the way they do, and why they have certain decisions, preferences, and biases, is facilitated by these filters that are hidden from conscious awareness. This ability to essentially do a personality assessment as part of normal conversation is of great value in scenarios such as team management, marketing, interviewing, and mentoring.
Learn Holistic Coaching Concepts: You will acquire the skills to use sophisticated NLP techniques to help people bring about long–term and comprehensive personal transformation in an easy and conversational way.
You will also be able to craft an exclusive approach, combining coaching, and psychotherapy with Behavioral Modeling.
What else do you gain from the program?
Increased

Professional

C

red

ibility

:

Bec

oming

a

master

practitioner

in

N

LP

will

demonstrate

to

potential

employers

,

colleagues

and

clients

that

you

have

a

high

level

of

knowledge

and

expertise

in

N

LP

.

Imp

rove

d I

nterpe

rs

on

al Skil

ls: Being an

NL

P

Master Pra

ctitioner wil

l

giv

e you t

h

e ab

ility

t

o bette

r understand

how

p

eo

ple t

hink and how

th

ey communi

cate. This

will help y

ou i

mprove y

our i

nter

perso

na

l ski

lls an

d e

nhance you

r ab

ility to b

uil

d

re

l

a

t

i

o

nships wit

h pe

ople

.



Improved Problem-Solving Ability: NLP will help you develop a better understanding of how to solve problems and make decisions. This will give you the skills and confidence to handle any situation with a more effective approach.
Increased Understanding of Other People: As an NLP Master Practitioner, you will have the skills to better understand the motivations and intentions of other people. This will help you build stronger relationships and understand different points of view.
Increased Self-Awareness: Through NLP, you will gain a better understanding of yourself and how you respond to certain situations. This increased self-awareness will help you better manage your emotions and reactions.

Increased Earning Potential: With a master practitioner qualification in NLP, you can command higher pay for your services.