NLP and Negotiations
December 7, 2018

Posted by:

Sushil Mehrotra

Category:

Applied NLP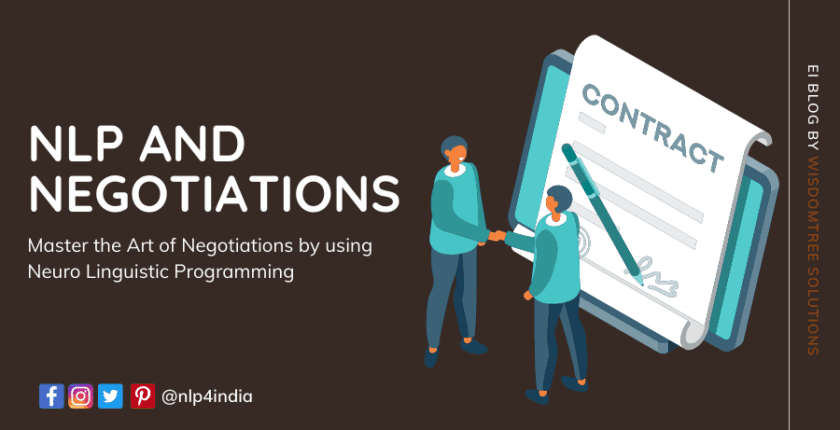 Negotiations, like Sales, is a far-reaching function in business. From the CEO down, just about every person in an organization finds themselves in a negotiation situation at some time or another, whether it be:
Mergers and acquisitions at a major corporate level between organisations
A business owner seeking the best funding deal for his/her business enterprise
An entrepreneur looking for much-needed resources
HR negotiating a package with a new employee
Sales professionals wanting the most profitable deal for the organisation – and their commission
Buyers doing much the same
Managers looking to get things done in areas where they don't have direct authority
The Logistics Dept. seeking to get products out and delivered as smoothly as possible
The Finance professionals collect payment early or, at least, on time
Pay rise time when everybody becomes a negotiator
And more
Let's face it, LIFE is a negotiation!
Little wonder then that my skills and services as a negotiator are often in demand. In this section of Doing Business with NLP, we will be exploring the various areas of negotiating that is so effectively helped and improved through knowledge and use of NLP.
So, let's explore NLP and Negotiations!
One of the key skills identified in the best Negotiators is that of being able to set effective goals – in other words knowing what they want to achieve – and one of the first things we teach on our NLP programs at RWP Ltd is how to set, structure and examine Well Formed Outcomes.
By "Well-Formed Outcomes" I mean setting a clear goal and examining it from several perspectives, including:
Is it actually achievable? You'd be surprised how many are not
Are you being specific enough in what you actually want to happen?
What is the timescale for achieving it?
What are the positive and less-positive implications of achieving – or not achieving – the outcome
The purpose of this is to check and double-check that we understand the ramifications of our intended actions. You will notice a number of common threads across the various sections of our journey into Doing Business with NLP and this is the first – always know what you want.
Read about Negotiations in detail in my book on, "Countermove: Art of Negotiation".
One of the key reasons for success – or otherwise – in many negotiations is that of planning. In my book, I set out the many areas and stages of planning a negotiation. NLP can play a vital part in that it will help you to:
Set out your goal
Decide on resources required (people and things)
Make objective decisions about timescales, people, relationships and tactics
Plan for foreseeable obstacles and how you will deal with them
There are a number of key stages to the planning of successful negotiation and you'll find those in my book AND on any NLP Training that I lead.
One of the keys to successful negotiation is to build effective relationships based on mutual understanding and respect. Negotiations are all about people and communication and NLP brings those two vital components together across a number of skill areas:
Understanding non-verbal communication and how it can improve, or split, relationships quickly and often unintentionally.
Effective Rapport skills
Objective perspectives on relationships in order to "rehearse" interaction, objections and scenarios
Thus a well-prepared and confident Negotiator walks into the process ready to handle most, if not all, situations. The interpersonal aspects of negotiation are all covered in any good NLP training and certainly in ALL of the NLP programs offered by the Ralph Watson Partnership.
THE LANGUAGE OF INFLUENCE
So many negotiations fall because of a slip of the tongue, something inadvertently said that causes concern, objection or even offence. NLP brings a host of linguistic skills that are a vital element in successful negotiating. Participate in any NLP programme led by myself or a member of my team and you will discover:
How to structure skilful questions to uncover information and sort fact from fiction (Meta Model)
How to use carefully constructed sentences and language that will influence thought patterns in the mind of the listener (Milton Model)
How to identify the unconscious assumptions being made by the speaker (Presuppositions in Language) and how to use them in influencing
How to put all of these together in an ethical manner and create Patterns of Persuasion
You will note that I stress the word ethical here and this is because the key outcome of any top negotiator is to get a deal that works for both parties and not to simply grab all and run. Remember, Negotiating is about relationships. NLP teaches much about ecology and ethics.
As with past chapters, we come to the subject of self-awareness and self-actualisation. Alongside all of the great "technical" skills that you will learn on one of my NLP programmes, you will also embark on a journey of self-discovery and awareness that will bring you:
A greater understanding of your own patterns and behaviour
Greater choice in how you react emotionally and physically in situations
Increased confidence in your own ability
Enhanced creativity
These are all, in themselves, invaluable in a business context and all outstanding contributors to a healthier and more fulfilling life.
Once you have read this article, you are welcome to download it in pdf format here
You can also find out more about the fascinating subject of negotiating in my book, "Countermove – a guide to the Art of Negotiation."
Guest Post by Ralph Watson