The Most Practical Trainer Training Program
January 10, 2022

Posted by:

Sitanshu

Category:

Applied NLP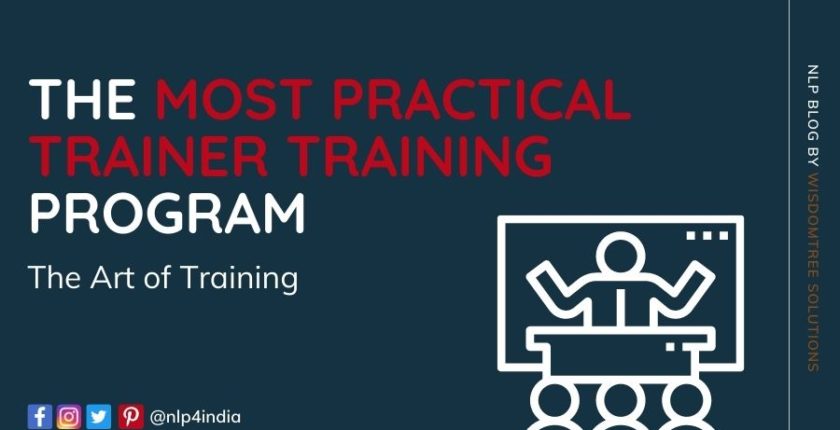 In recent years companies have realized the potential of training and have grown it exponentially. Almost every market vertical has laid huge emphasis on employee training and has opened training segments at a brisk pace. The boom in the training sector has led to more and more professionals taking up training and allied fields as their desired profession.
Every field has its own challenges and setbacks, and one of the major challenges faced by the trainers wanting to explore new and better opportunities is the availability of quality and effective programs that would boost their growth in the trade.
There are various programs available in the market ranging from three to ten days but fail to deliver the basic requisite skills and offer only presentation skills.
On the other hand, long-term programs focus on teaching the administration and not the skills.
In the few years that I have been contacted by various senior managers to transform their company into a market giant by enriching their managers with these valuable skills. They have always asked me to prepare a tailor-made training solution that delivers effective training, enhancing the overall skills and proving their mettle in various horizons.
So, here we are with a program that has taken me almost one year of research and fine-tuning. I have looked at various programs, spoken with practising trainers, managers, and participants to know what their needs are, and went through hundreds of program feedbacks to know what makes a training program click with participants, to precisely understand how they feel.
I have worked to find out how I could encapsulate all significant skills in the minimum available time. How I could create a program that will be a significant value add for working trainers and simple enough for first-timers to learn and practice?
I have used my knowledge of NLP and several significant inputs I received from other Master Trainers before my certification as a Master Trainer of NLP to make this program deliver the required skills to participants.
And here's my answer: Art of Training – Master Skills. It's a 9-Day training program that delivers it all. Check out the details.